An unexpected foray into Albania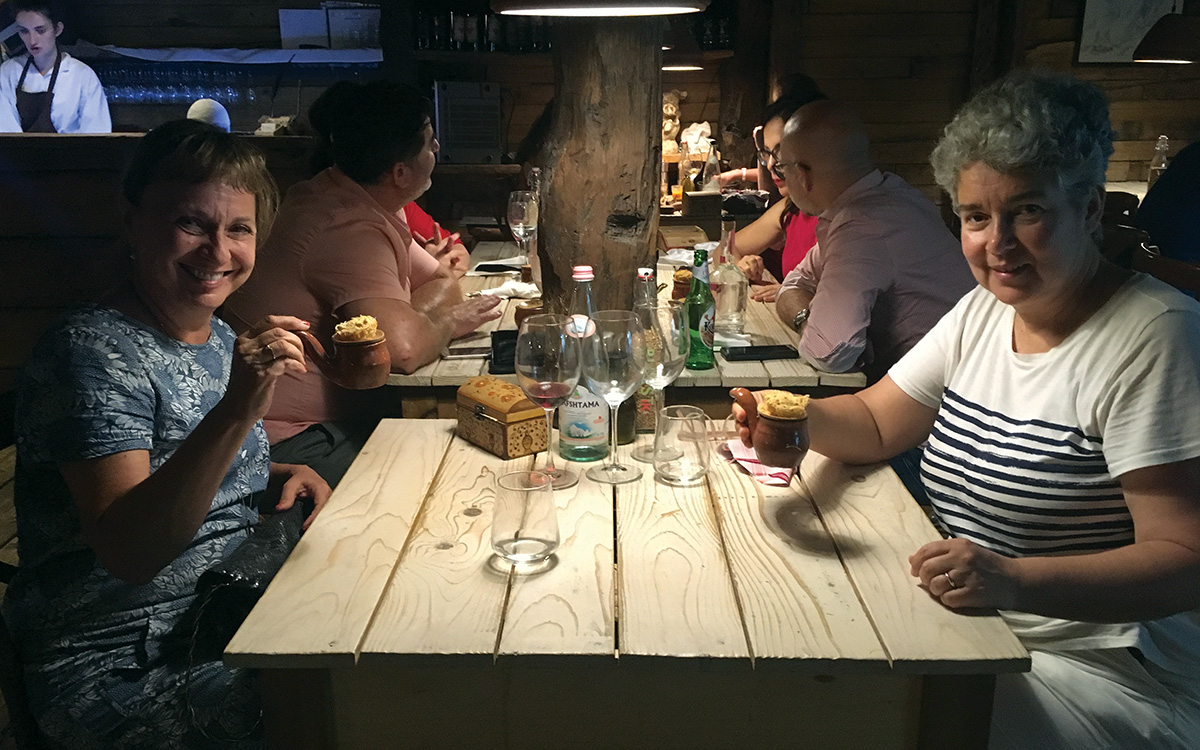 Reflections
BY DOLORES BROWN AND MARIA SILVER
Maria Silver, right, and Dolores Brown toast their renewed friendship at the Mullixhiu restaurant.
Courtesy of Dolores Brown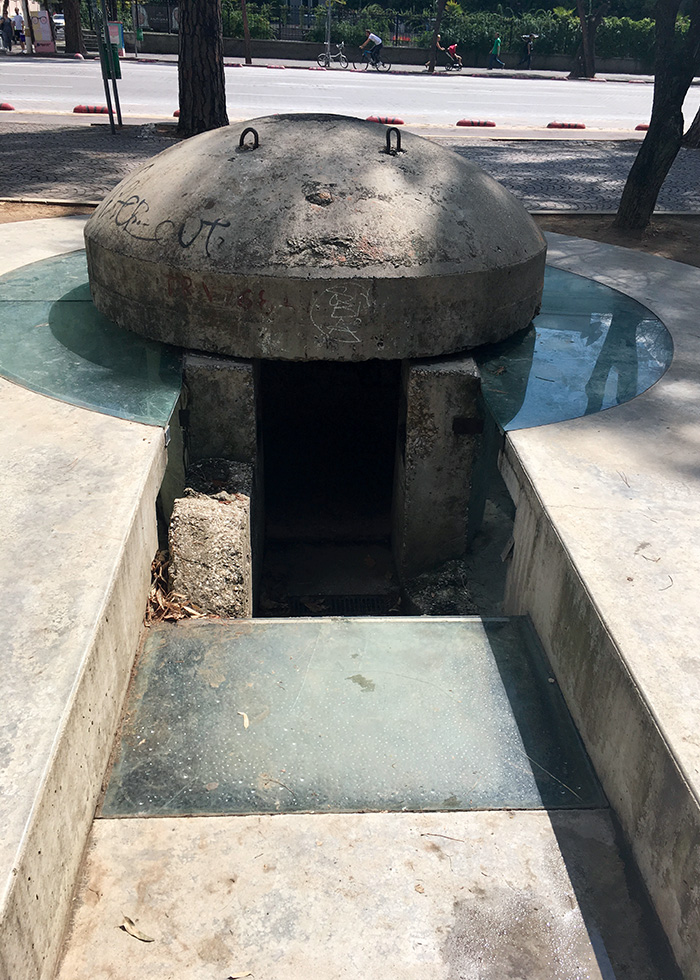 A pillbox bunker in downtown Tirana.
Courtesy of Dolores Brown
Imagine walking through the long tunnel leading to the rigged bunker of former Albanian President Enver Hoxha, who ruled – and isolated – his country from 1941 until his death in 1985. We have contemplated all the human efforts made to satisfy the Hoxha's paranoia as he held his country in fear. It was unforgettable.
The "we" here are two retired foreign service officers who, true to our roots, remain fearless. Together, we have over 50 years of experience with the State Department. We bonded in the mid-1990s by working together on Belarus, another cloistered European dictatorship. Dolores was the analyst for Belarus at the Bureau of Intelligence and Research, while Maria was the head of the bureau.
Analyzing the statements of the crafty Belarusian President Alexander Lukashenko, former boss of a collective farm, we rejoiced in the skepticism and wicked sense of humor of the other. It helped that we were both alumni of the same college (although we missed each other at Barnard in the 1970s) and aficionados of Eastern European history.
More than twenty years later, we came together on Foreign Affairs Day 2019. Remembering, we noted with irony that the Belarusian dictator, still in power, survived us at work. It turned out that Maria, who has carried out nearly a dozen re-employed annuitant missions since her retirement in 2011, was heading to Albania.
Dolores' eyes widened. Long closed to tourists – let alone American diplomats – the country had pierced her for years. She jumped at the chance to ask Maria if she would like to have some company.
Soon we found ourselves on an unexpected foray into what was Europe's fiercest communist state… and poised at the entrance of that long, cold tunnel. Signs warn that this is not for the claustrophobic.
We ventured through several sets of two-foot-thick reinforced concrete doors and explored tour highlights such as 'decontamination' showers and eerie audio recordings of Hoxha's harangues and singing crowds. 'national anthem, filled with the line "with pickaxe and gun".
Hoxha's five-story hideout, outfitted with secret corridors and escape routes, was meant to protect the ruler from nuclear, biological, or chemical attacks (which never happened). In Albania, people also had bunkers. Urban and rural landscapes are dotted with what look like giant stranded sea turtles, testifying to Hoxha's delusion that Albania would be punished for being the purest communist state in Europe.
He did not allow his people to go out or foreigners. Adding to the absurdity, these bunkers wouldn't have protected anyone from anything except perhaps a stray tornado. Many are now used by Albanian teenagers for partying.
We shook our heads and agreed that we must give credit to the Albanian people for being particularly tough in a world of intense competition.
We must give the Albanian people the credit for being particularly enduring.
Located in the Balkans, Albania has been the victim of centuries of power politics. Conquered by the Byzantines, Ottomans, Slavs, Serbs, Italians and others, it has a rich mix of Muslim, Greek Orthodox, Catholic and Sufi traditions (in rough order of prevalence) among its population of three million people in a country the size of Maryland. Despite – or perhaps because of – its history, the country is internationally recognized for protecting Jews during the Holocaust.
Albania has possibly the most kaleidoscopic mix of religions, political systems, and cultures we've ever seen in such a small country, which makes it so eccentric.
An Albanian history teacher who had lived through Hoxha's reign guided us through Tirana, recounting personal experiences and historical perspectives.
He reminded us that Hoxha had been so upset by Khrushchev's denunciation of Stalin that he severed relations with the Soviet Union and informally allied himself with Maoist China soon after. The professor described the obligatory Chinese clothing of this period, one of the most bizarre geopolitical vignettes we have ever heard.
We strolled to the Secret Watch Museum, also known as the House of Leaves, which opened in 2017 in the building that served as the headquarters of the Albanian Secret Service during the Communist era. Visitors can see the tools of oppression of a country that struggled to feed its own people and had less than 3,000 cars at the time.
A foray into central Tirana revealed a huge pyramid of glass and marble built after Hoxha's death to honor her and to house some of her possessions, like a pharaoh. Graffiti in a way familiar to any New Yorker, it sits empty as authorities bicker over its fate. And just a few blocks away is one of Tirana's main squares, now called Mother Teresa Square.
We also visited the town of Berat, an Ottoman-era architectural gem on the UNESCO World Heritage List, spending the night in a century-old stone guesthouse found on Airbnb. We climbed up to the citadel, the fortress that dominates the city, and looked across the valley at the giant letters that had spelled "ENVER", Hoxha's first name, before the Albanians rearranged them to spell "NEVER" .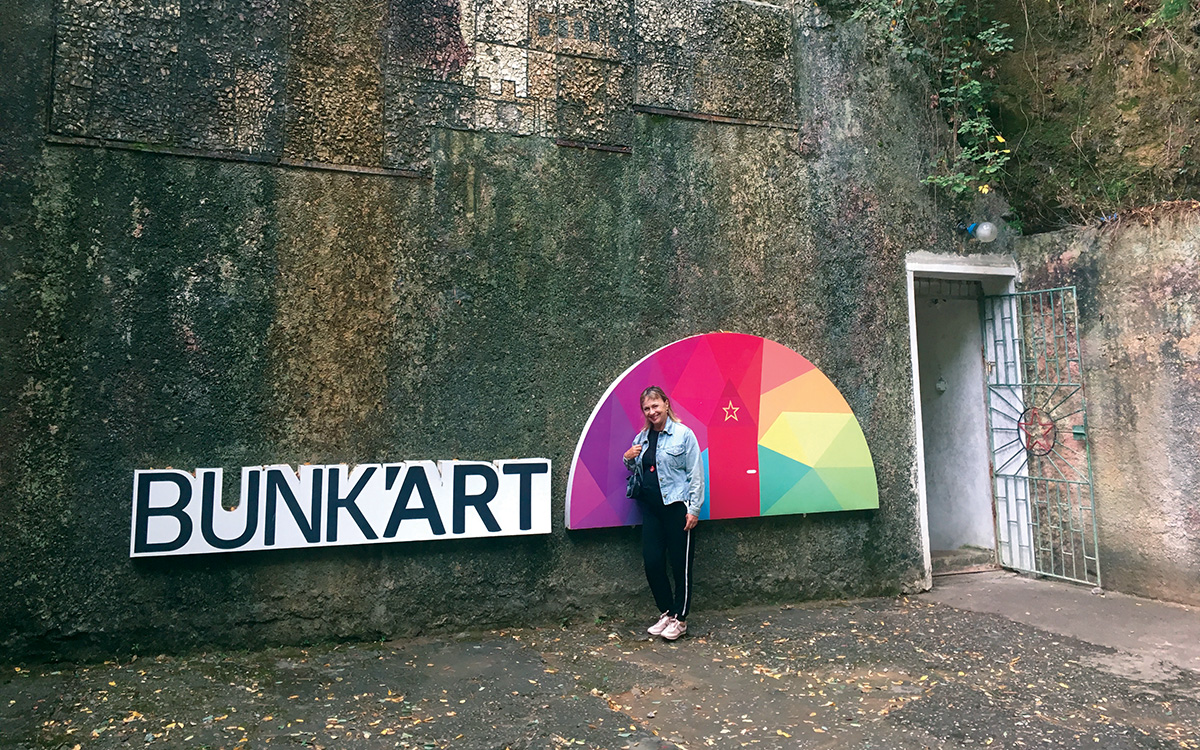 Dolores in front of the Hoxha bunker, a big Albanian tourist attraction.
Courtesy of Dolores Brown
We met many Albanians determined to overcome the past, such as Elton Caushi, the owner of Albania Trip, a company that skillfully promotes the country's political heritage and natural beauty. He spoke in a neutral tone of how two young Albanian women desperately tried to swim to Corfu in Greek, covering their heads with hollowed-out watermelons to escape capture.
He and other creative entrepreneurs are at the heart of Albania's integration into the West. Indeed, T: The New York Times Style Magazine named Tirana one of the 10 most enchanting places its writers visited in 2019.
And, indeed, Albanians are unabashedly pro-American and great admirers of American values, as Tirana embassy staff have helped us to understand. One of the local embassy staff said the American monument that impressed him the most was Arlington National Cemetery, for its palpable show of respect for our fallen leaders and military.
We ended our trip at Mullixhiu, a farm-to-table restaurant run by an Albanian chef who cut his teeth at internationally renowned Danish restaurant Noma and returned home to establish a world class restaurant in Tirana. We enjoyed an amazing dinner: jufka, homemade pasta with wild juniper berries; quail cooked in clay; and a coffee dessert drunk from tiny pitcher spouts.
Albania is now a member of NATO and a candidate for membership of the European Union. As Albanians slowly recover from decades of isolation and repression, they are transforming one of Europe's poorest countries into a democratic society and a fascinating tourist destination.
We are grateful to Albania. It brought us together again, reminding us of the courage of the human spirit and why we became diplomats in the first place.