German protesters stage mass rally in Berlin to protest rising prices and cost of living crisis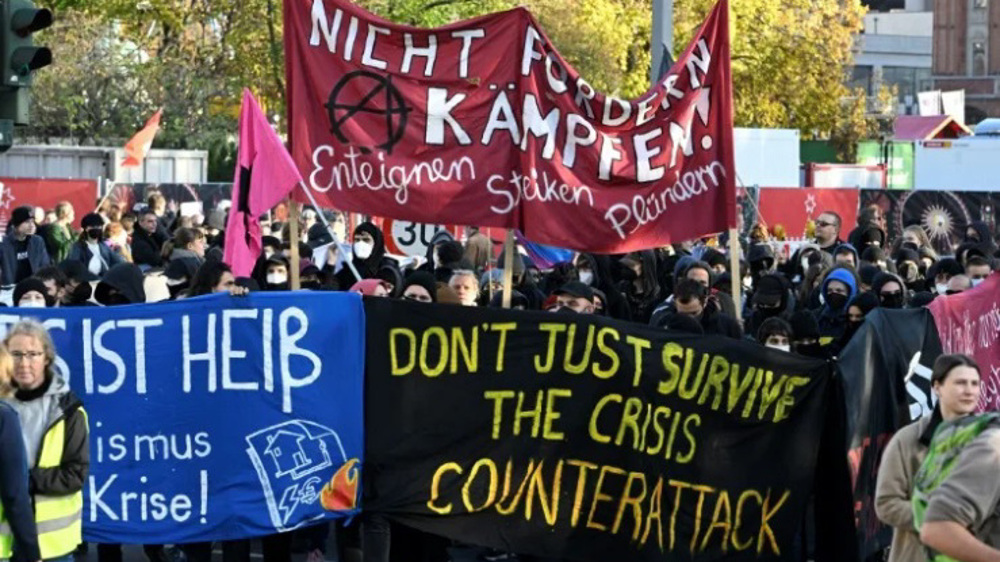 Thousands of people in Germany have staged a massive protest in the capital Berlin, calling for food price controls and for the wealthy to pay higher taxes as Germany faces a cost of living crisis.
Saturday's demonstration came after a call from left-wing organizations that urged the German people to protest against soaring prices and rents.
Berlin protesters marched behind banners, one of which carried the demand "Redistribute! Other banners said the current economic order "puts profits ahead of people's needs".
Police and organizers said at least 3,000 people took part in the protest, which took place amid rising inflation caused in part by the war in Ukraine which has hit energy supplies and food.
Inflation in Germany is at its highest level in more than 70 years and hit 10.4% in October, figures showed on Friday.
Price increases are hitting household budgets as well as industry in the euro zone's largest economy.
The government, which forecasts a 0.4 percentage point contraction in GDP next year, has sought to dampen soaring energy prices, imposing a partial cap on the price of gas and electricity that will come into force in 2023.
Most other mitigation measures, including subsidized train travel, have already ended.
German economic experts on Wednesday proposed raising taxes on high earners to help households struggling with rising energy bills, but the suggestion was immediately rejected by the country's finance minister.
Portuguese climate protesters are storming the government. building, urge the minister to resign
Also on Saturday, hundreds of protesters angry over the climate crisis took to the streets of Lisbon, and dozens stormed a building where Portuguese Economy Minister Antonio Costa e Silva was speaking, demanding the resignation of former oil executive.
Holding banners and chanting slogans, protesters demanded climate action. When protesters burst into the building, those outside shouted, "Out Costa e Silva!
Police officers dragged the protesters out of the building as Portuguese broadcaster RTP reported that the minister left the building through a back door.
The protest in Portugal came as world leaders, policymakers and delegates from nearly 200 countries gathered at the UN COP27 climate summit in Egypt, where they hope to keep the goal alive. avoid the worst impacts of climate change.
Some activists don't believe COP27 will solve the problem. UN experts said in a report on Tuesday that pledges by companies, banks and cities to achieve net-zero emissions often amount to little more than greenwashing.
"The situation is serious and urgent," Marta Leandro, vice president of Portuguese environmental group Quercus, said at the protest in Lisbon, adding, "What we do or don't do in this decade will have a big impact on climate security".
Albanian anti-government protesters clash with police
In another development also on Saturday, protesters from the Albanian position clashed with police outside Prime Minister Edi Rama's office.
Tens of thousands of people had gathered outside Rama's office to protest against corruption, rising poverty and increasing numbers of people leaving the country.
Protesters initially demonstrated peacefully for about three hours, before breaking through the police cordon around the government building and throwing red and black paint. Police arrested a protester.
Other protesters lit candles in memory of two men who the opposition say died in police custody.
"Just like 32 years ago, the world sees us as people (arriving in) small boats," said Sali Berisha, leader of the opposition Democratic Party, referring to the growing number of Albanians reaching Great Britain. Brittany.
British ministers say Albanians are behind a wave of migrants crossing the English Channel and some of them are involved in organized crime.
The protest was seen as an attempt by Berisha to beef up ahead of local elections in May 2023.
Berisha had previously served as president and prime minister, but was banned in 2021 from entering the United States for alleged corruption. He denies any wrongdoing.