Landshare brings real estate to the blockchain via tokenized assets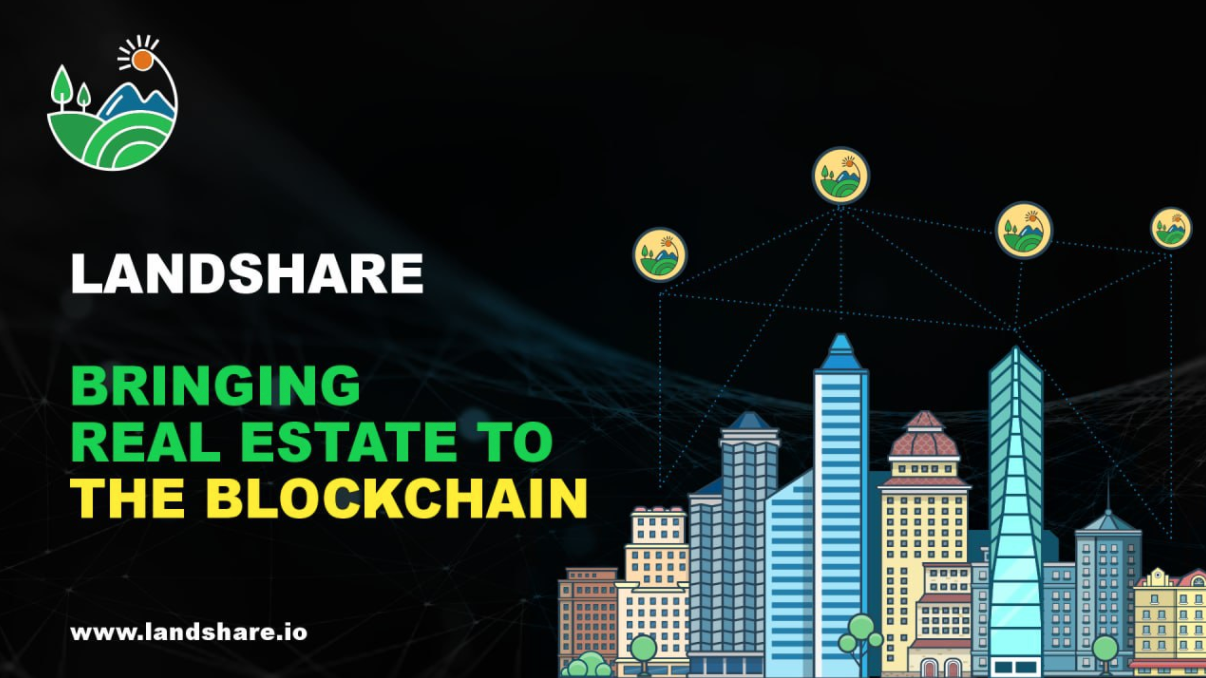 Landshare Brings Real Estate to the Blockchain by Offering Law-Compliant Fractional Ownership of Real Estate Assets Via Tokenized Assets.
Asset tokens derive their value directly from the value of the underlying asset, and ownership of the asset token represents real-world participation in the asset.
Landshare allows investors to invest in the real estate market without having to worry about property maintenance, tenants or collecting rent.
How does the land division work?
Landshare offers fractional real estate investments through a process called tokenization. Tokenization is the process by which the ownership of real estate assets is represented by tokens on the blockchain. Each tokenized property is owned by its own legal entity, and the entity's actions are represented by tokens. Tokenized assets are managed and leased to tenants by Landshare to generate returns, which are distributed among token holders.
Source: A general model of asset tokenization – Otonomos.com
The asset tokens will come with additional utilities, such as the ability to use them as collateral in Landshare's upcoming loan protocol. Investors can borrow BUSDs against the value of their asset tokens, freeing up liquid capital without needing to sell their tokens. Investors will also be able to automatically reinvest their rental returns in additional Asset Tokens through automatic compounding, thereby increasing real estate exposure and returns over time.
How secure is Landshare?
Investments in tokenized assets offer additional protections compared to traditional cryptocurrencies. Since the buyer signs a legal agreement to obtain the tokens, they have additional rights such as the ability to have the tokens reissued.
For example, if an investor wallet is compromised, Landshare can administratively freeze the assets of the stolen wallet and reissue them to a new secure wallet owned by the investor. In other words, ownership is associated with the identity of the investor, not the address of the portfolio.
How can users buy a tokenized asset?
To purchase a stake in real estate through Landshare, investors must go through a KYC process and become eligible to purchase asset tokens. When purchasing the asset token, investors automatically get the individual portion of ownership of the properties and make them eligible for monthly payments.
These payments, or rental returns, are distributed monthly to token holders in the form of BUSDs. Rental yields are sent directly to the portfolio to which the asset token belongs, allowing for a stress-free automated process.
Please see the disclaimer at the bottom of the page for more details on participation restrictions.
Land Sharing Token
The Landshare token, LAND, is at the heart of the Landshare platform. LAND is the utility token that allows users to access all of Landshare's features. The LAND token differs from asset tokens in that it does not derive its value from real estate assets and is not backed by any real estate, it is strictly the utility of the platform. The Landshare token has a supply cap of 10,000,000 with a circulating supply of only 875,294 tokens.
The main utility of the Landshare token is its use as a payment method for investments in tokenized assets. To purchase an asset token, investors must pay 10% of the purchase price in LAND. When using Landshare's loan protocol, borrowers incur interest over time that must be repaid in LAND before receiving collateral for their assets. All tokens brought into the platform through these features are burned, removing them permanently from circulation.
The LAND token also has a governance function, where each staked token represents a vote in Landshare's governance protocol. Finally, Landshare tokens or LAND-BNB LP tokens can be wagered to earn rewards, and LAND token holders can access our BUSD Vault, which offers both BUSD and LAND rewards.
Disclaimer
The Asset Token offers are not and will not be registered under the Securities Act of 1933, as amended (the "Securities Act") and may be offered or sold to non-US residents outside of the United States. .
Accordingly, the Securities are only offered and sold to non-US residents in accordance with the SEC's Final Rule Offshore Offers and Sales (Regulation S). Additional jurisdictional restrictions apply, please see below.
The following countries cannot participate in tokenized asset offers: United States, Afghanistan, Albania, Barbados, Balkans, Botswana, Burkina Faso, Burma, Cambodia, Central African Republic, China, Ivory Coast, Crimean Peninsula, Cuba, Democratic Republic of Congo, Eritrea, Guinea-Bissau, Iran, Iraq, Jamaica, LNR (Louhansk Republic), Lebanon, Libya, Liberia, Mauritius, Mali, Morocco, Myanmar, Nicaragua, North Korea, Pakistan, Panama, Senegal, Somalia, Sudan, Syria, Uganda, Yemen, Venezuela, Zimbabwe, Anguilla, Dominica, Fiji, Palau, Samoa, Seychelles, Trinidad and Tobago and Vanuatu cannot participate. This list is not exhaustive. Additional restrictions may apply. Token lock-in periods may also apply in some jurisdictions.
Disclaimer
All information on our website is posted in good faith and for general information purposes only. Any action that the reader takes with the information found on our website is strictly at his own risk.