Mapped: countries where China's influence has overtaken that of the United States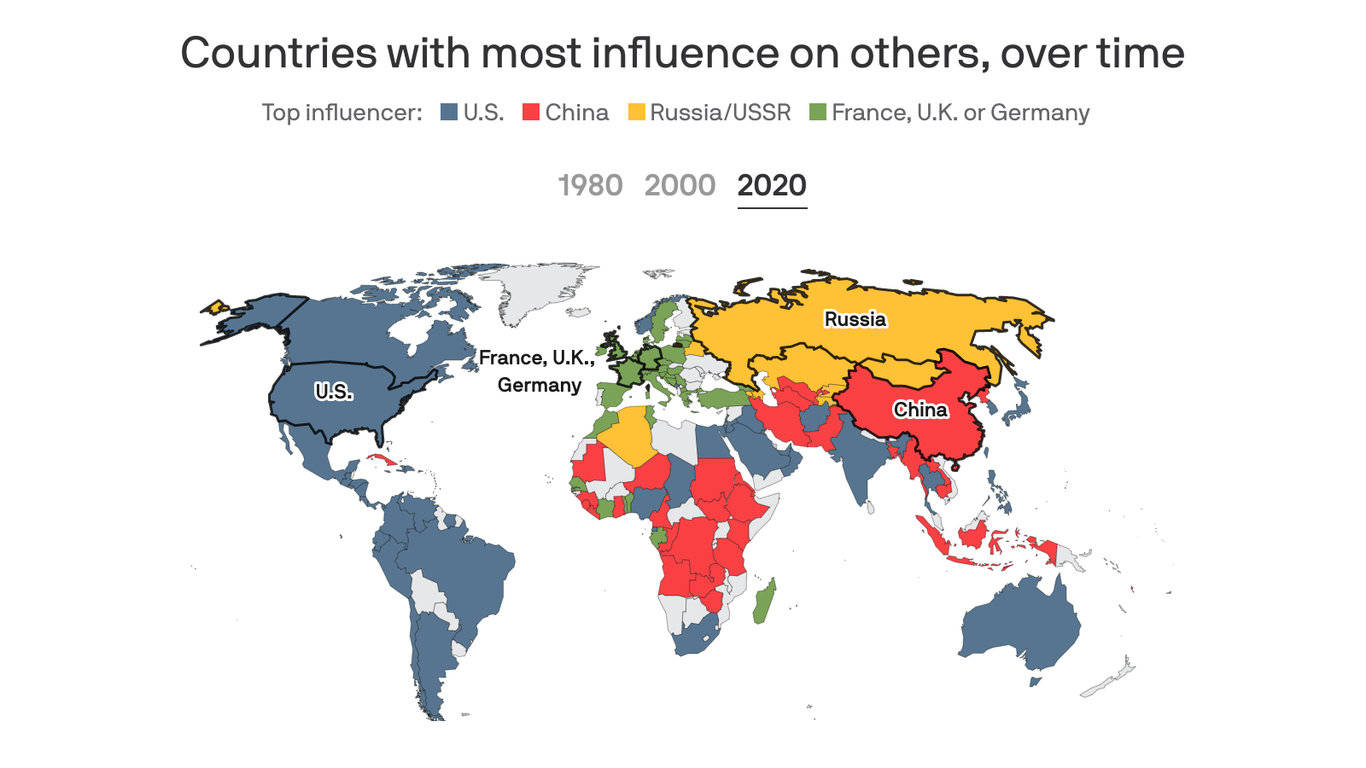 In 1980, China was the most influential player in one country: Albania. Today, China is the leading power in much of sub-Saharan Africa and Southeast Asia, catching up with the United States in its own hemisphere.
What we read: This is according to a new report from the University of Denver and the Atlantic Council which seeks to measure the influence of countries on each other, and thus offers a dramatic portrait of the rise of China.
The authors took the quantifiable aspects of the trade, security and diplomatic relations of two countries (the value of the goods exchanged, the aid provided, the arms transferred, etc.), then examined the equilibrium in terms of the dependence of one country to another.
They note that some aspects of influence – the funding of indirect forces, for example, or the strength of cultural influences – are not captured in these data.
What they capture is a clear trend Over the past three decades: America's global influence has stagnated, that of Europe has declined, and that of China has expanded rapidly.
Break it down: Even in 2000, China was most influential in only a handful of otherwise isolated states like Iran, Myanmar and Sudan. But in the early 2000s, China's influence increased as its economy grew.
"The way influence works in the international system today is often not focused primarily on military influence, although this is still important," Jonathan Moyer, one of the co-authors of the report.
It is the role of China at the center of world trade that generates most of its influence.
The trend: China's acceleration in influence has slowed in recent years, but there is room to expand in the security arena, especially through arms sales, Moyer says.
America's move towards protectionism makes it less competitive with China, says Mathew Burrows, another co-author. "The United States withdrew from major regional trade agreements, and that essentially tipped the scales in favor of China. "
Inventory: The United States remains the most influential power in fifty countries compared to 34 for China, according to the study, including in almost all of Latin America and in economic heavyweights like India, the Japan, Saudi Arabia and Australia.
But based on the current trajectory, the map could be very different in 2040.
What to watch: The Biden administration made early efforts to engage with Southeast Asia, where the report finds that US and Chinese influence is closely balanced in several countries, including Indonesia, Malaysia, Thailand. and Vietnam.
To note: To simplify our map, we have colored in green the countries for which the most influential power was France, Germany or the United Kingdom.
Germany is the most influential country in almost all of Western and Central Europe, while France is the most influential in several African countries. The UK is currently only the most influential in Ireland.