Narberth Ladies Probus Club April Meeting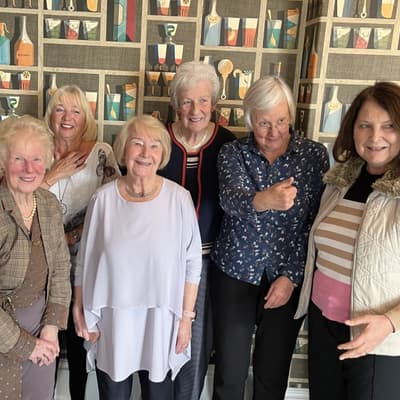 President Jane Davies was delighted to welcome Professor Ros Bryant to the club's April meeting.
She had worked for more than six years in the Department of Health Care Studies at Swansea University before accepting a senior position at City University London.
It was there that she was made a teacher. Her specialty is primary health care, defined as a service concerned with people and their communities, and with health issues.
Professor Bryant's presentation focused on his work as a consultant for a new health project in North Macedonia, under the auspices of the World Health Organization (WHO).
North Macedonia is located in southeastern Europe, bordering Bulgaria to the east, Greece to the south, Serbia and Kosovo to the north, and Albania to the west. The surrounding countries were all part of what used to be called Yugoslavia.
In January 1992, the country declared full independence from the former Yugoslavia. The processes of democratization and economic transition, although successful, have been long and difficult, and now the country is on the way to joining NATO and the European Union.
The population of North Macedonia is similar to that of Wales and many people have low incomes. Like Wales, tourism in North Macedonia is an important factor in the country's economy, with its abundance of natural and cultural attractions.
Mother Teresa, for example, was born in Skopje, the capital, and the museum in her honor attracts many visitors. North Macedonia also has, like Wales, a football team qualified for the World Cup.
North Macedonia was the first country to develop a primary health care system, using professional providers to establish a person-centred quality service. Professor Bryant acted as a consultant, helping to coordinate existing medical practices and improving training provision for medical service providers.
Qualified students entering nursing are usually too poor to enter other professions. Similarly, most GPs have had basic training but must employ nurses to manage records and some health promotion activities. In 2020, a revised development program plan was established to develop knowledge and skills.
North Macedonia launched its primary health care (PHC) pilot sites as part of the PHC reforms in 2019, with the support of WHO.
The reforms capitalize on the country's strengths, including full demonstration of the capacity of nurses and doctors working in PHC facilities, integration at all levels of care, and the Moj electronic health information system. End.
The new model is focused on meeting the health needs of families and communities. It offers health promotion, preventive, curative and rehabilitative care.
Professor Bryant concluded his presentation by again making comparisons between Wales and North Macedonia. Both are small countries and have two languages.
Everyone in Wales knows everyone, just like in North Macedonia. However, the most important similarity between North Macedonia and Wales is that, due to poverty, health status levels are significantly lower than those of people living in more affluent areas. This means that their life expectancy can be up to ten years lower.
President Jane thanked Ros for a very informative and interesting presentation. The next meeting will be at 11:00 a.m. on Friday 6 May at the Plas Hyfryd Hotel. New members are always welcome.