Taiwanese crook wanted in call center extradited from Albania to Thailand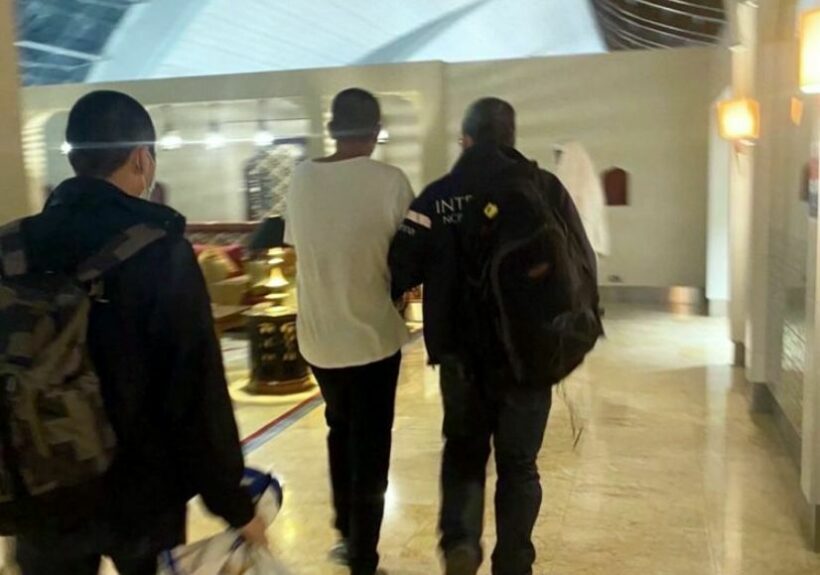 A Taiwanese man wanted for allegedly defrauding Thai victims from a call center in Dubai arrived at Bangkok's Suvarnabhumi Airport yesterday afternoon to face Thai justice after being arrested in Albania in September.
Tzu Yuan Kuo – or "Ayen" – was the "deputy leader" of a call center gang scamming victims in Thailand, Japan and Malaysia from Dubai in the United Arab Emirates. The scammers posed as officials to convince the victims that their bank details were being used in drug deals and that they needed to quickly transfer money to another account to get out of trouble.
The gang posed as court officials, postal workers, police officers and officials from Thailand's Department of Special Investigations, Bank of Thailand, Anti-Money Laundering Bureau, National Credit Bureau and the Drug Enforcement Administration.
Most victims did not guess that the "officials" were who they said they were since the scammers provided personal details about the victim which they gathered before calling. Many victims quickly transferred money out of fear of what would happen if they did not comply with the instructions of "officials".
Ayen fled in 2018 when Phra Khanong Provincial Court and Interpol issued an international arrest warrant for him on suspicion of "involvement in transnational organized crime, robbery, joint fraud while impersonating for someone else, money laundering, fraudulently entering false data into a computer system in a way likely to cause harm to the public".
Interpol tracked and arrested Ayen in Albania in September last year and eventually decided to extradite him to Thailand for prosecution yesterday. As an international criminal, it took nearly ten months for Interpol to decide where Ayen should be brought to justice. Ayen – a Taiwanese national – committed crimes from Dubai with victims in Japan, Malaysia and Thailand – but Interpol ultimately ruled that Ayen should be tried in Thailand as the majority of his victims were Thais.
Currently, most Thais receive several "scam" phone calls each week. However, fewer people fall victim to scammers since Thailand's National Broadcasting Telecommunications Commission (NBTC) added the prefix +697 to anonymous calls to warn the public not to pick up the phone of likely scammers.
If you receive a call from a +697 number, do not trust what they say and do not transfer money to them. Better yet, don't respond at all, advises the NBTC.
In Thailand's war on call center scams, the Department of Special Investigations released a state-sponsored country song titled "Ya Own" or "Don't Transfer" in March in a bid to urge Thais to stop and think before transferring money to anyone, especially people they've only ever spoken to on the phone.
SOURCE: Siam Rath